Turns out he didn't stupidly believe the sharp sword chair stabbed Daenerys.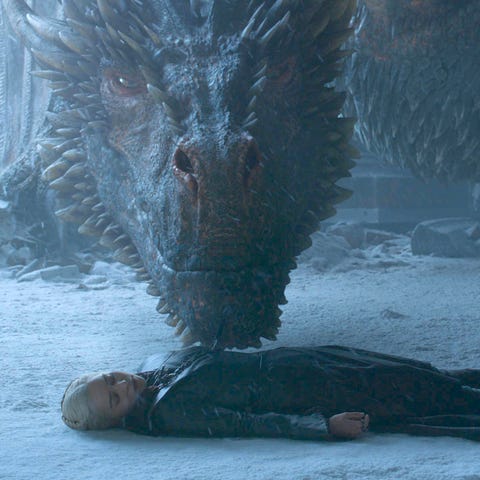 You don't need me to remind you that the final season of Game of Throne bad. While most fans have likely calmed down after the disappointing conclusion to one of the biggest TV shows of all time, there are still some lingering questions  that have not been answered. We don't know where Arva went, we don't know what the hell happened , we don't know if Bran become something of a Big Brother-type leader with his all-seeing Patriot Act powers.
But another question that's remained is, why did Drogon burn the Iron Throne when he found Jon holding Dany's dead body? One would imagine Drogon would kill, out of instinct, the man who killed his mother and torch the hell out of Jon. But he doesn't. Instead he turns and burns an inanimate object, the Iron Throne. Now, there are two theories here: One is that Drogon, a smart dragon, recognized what the Iron Throne symbolized and burned it, rebuking the desire for power that ultimately killed his mother. The other is that Drogon mistakenly thought that the pointy sword chair stabbed and killed Daenerys.